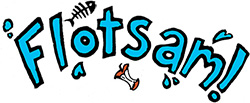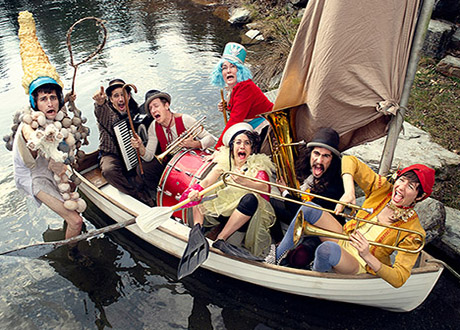 Photo by Lou Daprille

ABOUT FLOTSAM!:
FLOTSAM! is a troupe of musicians, circus performers and puppeteers traveling on a handmade ramshackle raft, giving free performances in towns along the way. During the tour, the raft is our mode of transit, our home, and our stage. In 2019 thousands came to see us perform as we toured on Oregon's Willamette River from Corvallis to Portland. We followed this with tours of the waterways around Seattle in 2021, and the Sacramento River and San Francisco Bay in 2022. This summer we are back on the water with our biggest tour yet, six weeks on the Mississippi River from the Twin Cities to St. Louis!


ABOUT OUR TROUPE: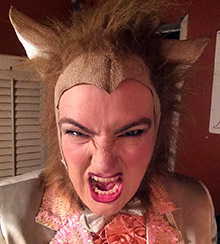 SARI BREZNAU is a music director, stage-craftsperson, and multi-instrumentalist known for her work with Future Fridays, Beats Antique, Cafe Nordo, Moonshine Revival Tent, Cherdonna, and the Singing in the Rain Family Choir. She was a long-time member of Seattle's beloved performance collective, Circus Contraption and trumpeter/percussionist in the Balkan brass ensemble, Orkestar Zirkonium. She is currently music director of the UP UP UP Crane Truck Circus.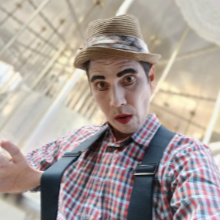 FERDUSOL uses tools of physical theater, neoclassical pantomime, and contemporary dance to shape his distinctive clowning style. Born in the Sonoran dessert, Ferdusol honed his craft by entertaining commuters waiting at intersections and border crossings in Tijuana. He graduated from Sonora State University with a degree in Performing Arts and continued his studies at the Estudio Búsqueda de Pantomima Teatro in Guanajuato, MX and the Flying Actor Studio Conservatory in Ashland, OR. He has performed and given masterclass workshops on pantomime throughout Mexico and the United States.
Ferdusol on Instagram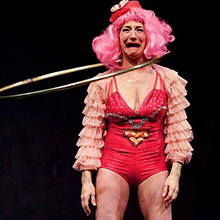 TANYA GAGNE, pioneer, icon and innovator of punk rock circus and cabaret has been making genre-straddling work and performances in New York City and around the world for over 20 years. She is a choreographer, aerialist, teacher, dancer, writer, storyteller, MC and comedian. Her neo-vaudevillian collaboration with Adrienne Truscott, The Wau Wau Sisters, began in NYC in 1999 and has enjoyed an Off-Broadway run, sold out season at the Sydney Opera House, and four seasons at the Edinburgh International Fringe Festival. Gagné is the founder and director of the Trapeze Loft and Big Sky Works in Brooklyn, NY. She is a long-time veteran of Circus Amok, the Bindlestiff Family Cirkus, La Clique, La Soirée, Briefs Factory, and worked for three years on tall ships, sailing half way around the world.
www.tanyagagne.com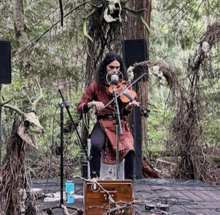 MIRIAM OOMMEN is a queer Malayali-American fiddler, banjoist and rhythm bones player from Eugene, Oregon. Raised on American folk songs, she detoured into hardcore punk before founding raw old time string band Foraging and the Rattling Bones. Miriam also books DIY shows, teaches fiddle and banjo, and co-hosts a weekly old time jam in Eugene with fiddler Melissa Takush.
www.foragingband.com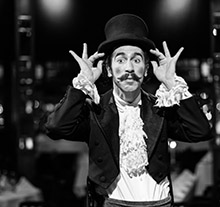 MATTHEW "POKI" MCCORKLE creates mesmerizing and surreal spectacle with balance, mime, magic, sleight of hand, comedy, elegance and an eccentric persona. Poki's award winning solo acts have been presented in Vienna, Nürnberg, and Berlin, and they have performed in Dubai with Cirque Éloize, one of Canada's leading contemporary circus companies. Poki also directs, creates, and plays-in devised ensemble work for theatre and festivals. Recent projects include the award-winning surrealist physical comedies, Falling Awake, and Hotel Vortruba, and the UP UP UP Crane Truck Circus Show. Poki is a proud supporter of Clowns Without Borders, an organization which offers laughter to relieve the suffering persons living in areas of crisis.
www.mattpoki.com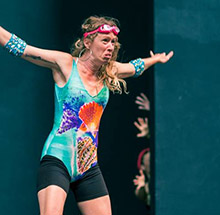 SADYE OSTERLOH has been performing, dancing dorkily and being a giant ham since the moment she was born. She has been practicing movement and circus arts for the past fifteen years, currently in Bellingham and previously in Asheville, NC as former director of The Toy Boat Circus School. Sadye has studied at the Circus Center in San Francisco and in Ft. Lauderdale with the world-renowned Eugene Baranok, and is a co-founder of the UP UP UP Crane Truck Circus Show. Whether performing with Bellingham Circus Guild or singing three-part harmonies with The Hot House Jazz Band, Sadye has a passion for sparking joy and laughter through partner acrobatics, trapeze and physical comedy. She delights in combining the ridiculous with feats of strength and skill.
www.dorkydancefitness.com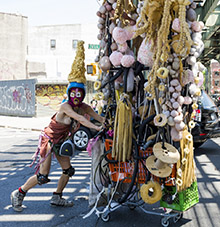 KALAN SHERRARD is a slime mold who lives in a (w)hole in the ground with dozens of feral pups. As a street physicist, xE has toured post-philosophical puppet shows and Not-Happenings across Europe and the Americas. A student of Comparative Literature and Misunderstandings, xE also periodically lectures on Ontological Nihilist Cosmogony, granting PhDs to passersby. New York Magazine decribes xErr as "NYC's Most Avant-Garde Nihilist Subway Performer".
www.enormousface.com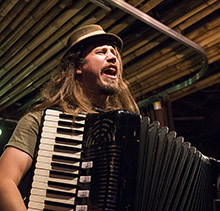 JASON WEBLEY is a troubadour based in Everett, WA. Beginning as a street performer in the late 90s, Webley has built an international cult following with his songs and stories. Armed with an accordion, a guitar, a porkpie hat and a plastic vodka bottle full of pennies, he has performed in over forty countries and released a pile of records. He is known for his work with the Welcome to Night Vale podcast and his long-time collaborator, Amanda Palmer. He grew up fantasizing about floating down rivers on rafts, and is a two-time winner of the "Boat Most Likely to Kill Pilot" award at the Camp Tipsy Rotten Boat Building Contest.
www.jasonwebley.com

FORMER (FUTURE?) CREW:

IRA ECHO is a violinist, dancer, street performer and music composer living in New Orleans.
www.iraecho.com

NAYANA FIELKOV is a Canadian based performing artist greatly dedicated to the work of play. She brings together the mediums of clowning, dance, mask and physical comedy. www.nayanafielkov.com

DREA LUSION got caught in a storm of mime, magic, dance and puppetry ten years ago and hasn't escaped yet.  
www.thedreamtop.com

ERIC PARTHUM is skilled in diverse artistic expressions—he is an adept juggler, object manipulator, visual artist, dancer, and circus arts teacher.
www.figmentally.com

JUSTIN THERRIEN is a contemporary circus artist that hypnotizes audiences with a unique blend of object manipulation, mime movement, and traditional sideshow.
www.justintherrien.com

THANK YOU:
Lookout Arts Quarry, Nexus Marine, Heather Dawn Sparks, Stage Left at Oregon Country Fair, Lou Daprille, Karla Mi Lugo, Oliver Orion, Nicole Medema, Chicken John Rinaldi, Annemarie, Alexandra, Michelle, Jerome, and Mathieu Marchon, Willamette Riverkeepers, Dean Codo, Trevor Heald, Scott Youngblood, Gaylene Loverde, Katie and Casey Kulla, Jake Gano, Kahra Wahler, Brian Mosley, Katie McConnell, Michael Jeppesen, Rick Yepez, Max Beery, Diane Breznau, Isabella Valencia, Black Lab Gallery, Hale's Palladium, The Whiteside Theatre, The Old Church, Beck Clements, Devin Harkness, Lyndsey Mackenzie, Mizu Desierto, Chris Durnin, Maureen and Paul Walczak, and so many more!




home | schedule | gallery | contact